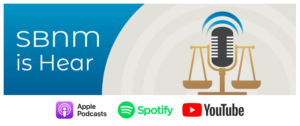 Our very own Jensen Wallace was recently featured as a co-host for the "Surviving New Motherhood" episode from the Committee on Women in the Legal Profession's #LawMom initiative. Part of SBnm is Hear, the State of New Mexico's official podcast, this series discusses professional development, mental and professional well-being, and tools of the legal trade. In 2016, the Committee on Women initiated the #LawMom series to discuss managing parenting responsibilities and a legal career.
In this episode, the title refers to two things. Jensen and her co-hosts discuss their experiences as lawyers who are also new moms. The goal is to offer insights so other law moms can learn from their experiences. Then, both the topics and questions discussed are aimed at helping the legal community to learn what it takes to better understand and support new parents.
Jensen joins Allison Block-Chavez (from Aldridge Hammar & Wexler PA) and Aja Brooks (from the Office of the US Attorney) in discussing the challenges and rewards of navigating legal careers as new parents. They discuss the important milestones of new parenting, the need for continued conversations, and legal support. Listen in to their stories and experiences as lawyers and moms through the Covid-19 pandemic and into the current movement toward greater "normalcy."
Jensen and her co-hosts discuss the realities of working from home. They also explore the challenges of balancing work and family as the "default" parent. Jensen says she has been a mom for most of her legal career. But she says there is no "perfect" time, so her advice is that you shouldn't wait to have a baby. It's not always easy to juggle it all, but as she puts it: "That's life." She wanted to have kids so she could enjoy them without sacrificing too much of her career.