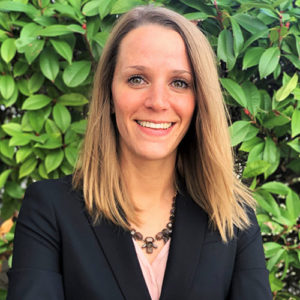 Kristin M. Bradford is an associate attorney with Terry & deGraauw, P.C. She graduated from the University of New Mexico School of Law in 2015 and is licensed in the State of New Mexico.  Kristin's practice is focused on family law, including divorce, child custody and support, property division, spousal support, division of retirement funds, prenuptial and postnuptial agreements, cohabitation agreements, and serving as a mediator and settlement facilitator for cooperative parties.  In addition, Kristin represents children as a Guardian ad Litem in private domestic relations matters, guardianship matters, and abuse and neglect proceedings.
A native of Michigan, Kristin graduated from Ferris State University in 2010, earning her B.A., and A.S.S., in Business Administration and Legal Studies, with honors. Before attending law school, Kristin relocated to New Mexico in 2010 and began working as a family law paralegal for Jennifer deGraauw. Kristin continued to focus on family law during her studies at UNM School of Law, which included clerking for the Honorable Elizabeth E. Whitefield in the Family Court Division of the Second Judicial District Court in Bernalillo County, serving as the law student liaison for the Peter H. Johnstone Pro Bono Family Law Day each year, and completing eighty hours of training for mediation.  She also worked as a contract negotiator with Sandia National Laboratories and as a law clerk at Terry & deGraauw P.C. throughout law school to continue her pursuit of practicing family law in New Mexico.
While in law school, Kristin received the Atkinson & Kelsey Excellence in Family Law Award.  Kristin recently received the 2021 Ones to Watch award in the focus area of Family Law from Best Lawyers.  Kristin is a member of the American and New Mexico Family Law Bar Associations and the New Mexico Children's Law Bar Association.  In her private time Kristin enjoys hiking, baking, volunteering for Animal Humane of New Mexico, and spoiling her rescue pup, Valentino.
Kristin is a passionate advocate for her clients who brings in depth knowledge and experience from the firm's team approach to the settlement table. Kristin values the focused preparation and proposal of unique solutions for each individual case and client.